Between the ongoing pandemic, legislative efforts to expand virtual meetings in New York, and updates from the United States Postal Service, it's been a busy summer in the association world.
Post Office Raises Prices & Updates Postcard Sizes
A slight rate hike implemented by the United States Postal Service (USPS) at the end of August will cost customers an extra three cents for individual postage and higher amounts for other forms of first-class mail.
The increase comes as the USPS initiates a 10-year plan intended to make the agency more financially stable. While the spike may not necessarily spark an uproar among customers paying for single-piece postage, it could drive up mailing fees for association and cause budget constraints.
Here's a look at the price changes, courtesy of the postal service: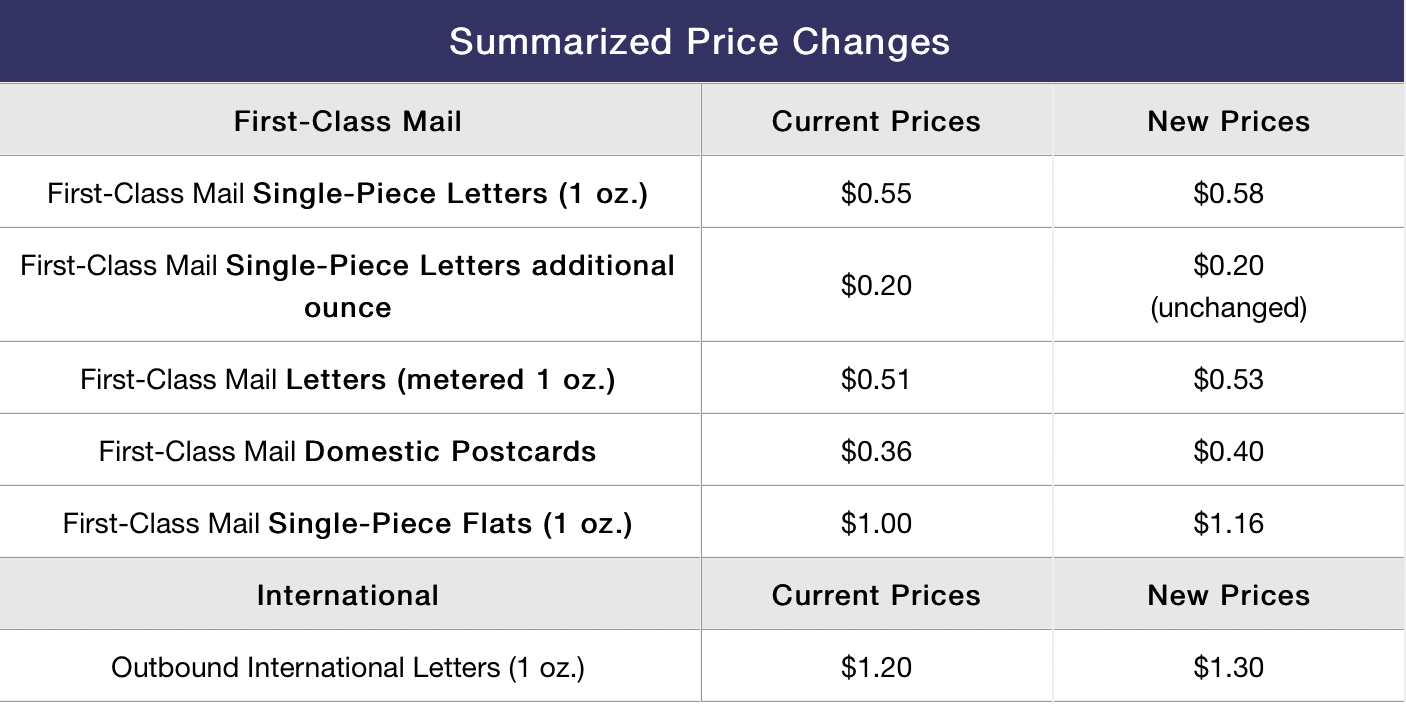 Caption: Screenshot from USPS website
In justifying the rate hikes, the USPS said: "The rate change request is part of a balanced approach under 'Delivering for America,' the Postal Service's 10-year plan for achieving financial sustainability and service excellence. The Postal Service is asking the Postal Regulatory Commission (PRC) to review increases in the prices of a First-Class Mail® (FCM) Forever stamp, metered mail 1-ounce, postcard, and single-piece 1-ounce flats, among other products."
Despite the increase, the USPS contends that American customers pay cheaper rates than their international counterparts, who, on average, pay $1.32 in postal fees, according to the agency.
If you're concerned about the rate hike, consult a YesElection election specialist about possible cost savings, such as bulk mail promotions. Our experts are also available for questions about how you can reduce election-related costs by transitioning to online elections.
In some good news out of the postal service, the USPS announced that it was increasing the maximum size of first-class postcards, from 4 ¼" x 6" to 6" x 9". The larger postcard option gives associations more space to promote elections and encourages more creativity. When before you were relegated to limiting your messaging, you can now promote the entire election process—including nominations—and potentially save on future mailings.
How Associations Can Utilize Asynchronous Meetings
In other news, it appears remote and hybrid meetings will be part of the equation longer than most people perhaps anticipated. While so-called "Zoom fatigue" is no doubt real, there appears to be an appetite for remote meetings to continue well into the future. To be sure, virtual gatherings are already evolving.
For example, asynchronous meetings have emerged as an option for associations that want to give their members more flexibility. Here's how it works: Associations create and distribute presentations, seminars or other virtual events to their members, who can watch and interact with the content in their free time. There's also the ability for members to respond through a chat function, similar to a live text-based Q&A.
As with anything, there's positive and negatives when incorporating asynchronous meetings, but it might be a suitable solution if your membership is meeting remotely and would enjoy the added convenience of signing on at their leisure.
Meanwhile, CASSS, a professional scientific society, is trying something bolder. The California-based non-profit's January 2022 annual meeting is slated to be a hybrid affair that members attending both virtually and in-person can enjoy.
"We're planning it as one meeting, but we are looking at how to have two different experiences," Anne Ornelas, senior operations manager at CASSS, told Associations Now.
While the parameters of the meeting may change due to the ever-evolving pandemic, the plan is to host events that inspire joint participation.
As you continue to navigate online tools to better support your members, it's important to remember that people of varying generations have different needs. Of course, younger generations are heavily immersed in online experiences, which also extends to your digital offerings.
Beyond meetings and elections, younger members, especially those from Generation Z, like to help foster online discussions. As Associations Now notes, static messages won't cut it.
"What they're really looking for is a way to meaningfully connect with the information, resources, and people that appeal to their core beliefs and values," Marjorie Anderson, community strategist and founder of Community by Association, told the industry publication . "It's about creating meaningful experiences that speak to something greater than just bringing people together."
Reform Bill Targets Mitchell-Lama Co-ops
While we're keeping a close eye on how virtual meetings and elections evolve over the years, we're also focused on ensuring our clients are well-educated on changes to various laws throughout the country.
New York saw a flurry of activity this past summer, including legislative efforts to extend full-remote participation amid the ongoing pandemic.
Legislators in June passed the "Mitchell-Lama" reform bill to ensure greater transparency within certain affordable housing co-ops that are subject to city oversight.
Here's what the bill would do:
"This legislation seeks to ensure open, transparent, and democratic governance of Mitchell-Lama coops and to protect the interests of shareholders and the public interest in preserving affordable housing. It would accomplish this by establishing certain voting and election procedures, duties of boards of directors, and high thresholds for votes to approve dissolution or steps related to dissolution. Such supermajority voting thresholds are intended to ensure that changes to the basic ownership structure and long-term affordability of the coops are only undertaken when there is a broad consensus among shareholders that the changes are in their best interest."
More than 100,000 New York City residents live in Mitchell-Lama cooperatives, which are intended for middle-income families. Along with changes to election procedures, the bill, if signed into law by the governor, seeks to improve board transparency by mandating at least six meetings annually, consisting of both shareholders and residents.
---
YesElections is the go-to election management agency for associations and unions of all sizes. Our investment in state-of-the-art security and modern voting tools, and expertise in increasing voter turnout, makes us one of the most reliable election management agencies in the nation. To learn more about how YesElections can help your organization, request a free consultation, today.